Home
Objects of the association:
To promote the growing and use of Australian native food plants.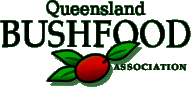 To share our interest and knowledge with other like-minded organisations and people and to establish co-operative relationships and arrangements with other organisations that have similar aims.
To accumulate and disseminate information for the benefit of members including organising guest speakers, field trips, seminars, displays and related activities.
7th Bushfood Conference
Saturday 28th September 2019
Australian Technology & Agricultural College
4808 Mt Lindesay Hgy, North Maclean
Registration 8.30am – 9am. $40.00 includes morning tea & lunch. 
Qld Bushfood Association members $30.00. 
Contact: Sheryl Backhouse – Qld Bushfood Association: sheryl.backhouse@bigpond.com or Dr Narendra Nand: n.nand@atac.qld.edu.au 
Camping available on site – no showers though!
Please register your interest for catering purposes. 
Pay on the day but do arrive early. 
SESSION 1   Dr Narendra Nand (ATAC/GU)
8.30    Registration
9.00    Welcome Emeritus Professor Rod Drew (Patron ATAC/GUI)
9.10    Keynote Address – Gerard Kath, President, Papaya Australia.
"A case study" Transport and Logistics of Fruit & Vegetable Crops
9.50    Doug Brownlow (QBA)   "Growing Bushfood for Profit"
10.10  John Wrench (QBA)   "Mind your Bushfood Language"
10.30  Morning Tea break
SESSION 2  Natasha Roebig (Bee All Natural)
11.00  Dr Boyd Wright (QBA) (ANU)
"Aboriginal Seed Food & Narcotic" from the Gibson Desert, WA
11.20  Ben Sipple (Grazing Management, Narromine, NSW)
"Saltbush – Bushfood for Animal Feed"
11.40  Emeritus Professor Rod Drew (ATAC/GU)   "Diversification with Bushfoods"
12.20  Ralph Bailey (Guymer Bailey Architects) (QBA)
"Favourite Bushfood Plants for Urban & Suburban Landscape Designs"
12.40  Lunch break
SESSION 3  Mr Ganeshan Rao (GU)
1.30    Jason & Natasha Roebig (Bee All Natural)
"Native Bees and Honey Infusions with Bushfoods"
2.00    Dr Satish Choy (Marine Ecologist & Energy Consultant)
"Native Fish & Crayfish species for commercial aquaculture & river stocks"
2.30    Jude Mayall (Outback Chef, Melbourne Vic) (QBA)
"Value adding of bushfood products"
2.50    Dr Shivani Gandi (Springwood Wellness Centre)
"Australian Native Flowers in Natural Healing"
3.10    Paula Nihot (Yugembeh Language & Heritage)
"Aboriginal Perspectives of Medicinal Bushfoods and Catering Business Opportunity"
3.30    Doug & Tracey Goebel (QBA) "Growing commercial bushfood in the Lockyer Valley"
3.50    Panel discussion, presentation of products and displays"
4.30    Close
Burdekin Plum Jellies
Harvest your fruit, wash it and dry the fruit. Place in containers with a lid and set aside for a few days for fruit to soften. When the fruit starts to soften place in deep freeze until needed. Thaw fruit and boil with added water until soft. Break flesh away from stone and discard stones. Refreeze fruit pulp for later use. Thaw pulp and place 2 cups in a blender with a little extra water and blend as smooth as possible. Place blended pulp in saucepan with 1 tablespoon of Agar-Agar, stir and bring up to a simmer. When pulp is simmering take from heat and pour in to glasses to set in the fridge.
Topping Open 1 x 400g tin of coconut cream and place cream in saucepan, add 100 ml of water. Add 1 tablespoon of Agar-Agar and 3 tablespoons of raw sugar. While stirring, bring up to a simmer and then pour on top of the set Burdekin Plum Jellies in their glasses, and chill again to set.
Sheryl is organising a grafting workshop at Paten Park Native Nursery at The Gap sometime in spring. If you would like to know how to graft finger limes, email me and I'll put you on the list.
Saturday 10th November – Mary River Festival  
Sheryl is looking to organise a trip down to visit members Russell and Sharon Costin at Limpinwood Nursery in northern NSW later in the year.  I can take 7 people in my van. Email/ring me. 
Past Events 2019
Saturday 25th August  9.00 am – 11.30 am Veronica Coogan, Witjuti Grub Native Nursery will be giving a talk at the Caboolture Region Environmental Education Centre – 150 Rowley Road, Burpengary. Learn about our native bushfood plants. You'll get to taste the fruits and leaves, explore the forest, buy some plants to take home to make a bushfood garden at your place. Free Must book: https://www.moretonbay.qld.gov.au/general.aspx?id=172053
Past Events 2018
Kemp Killerby – Flora 4 Fauna is having the following: https://www.facebook.com/events/167353670614739/
Sunday 3rd June Native Plant Sale –  Bushfoods & Fauna Attractors
Sunday 10th June Planting Day – Bushfoods & Bush Medicines
Sunday 17th June Free Walk & Talk – Dry Rainforest Bushfoods & Medicinal Plants (Highfields / Toowoomba
Sunday 24th June – Scenic Rim – Bushfood & Biodiversity Eco Tour
 Sunday 29th July National Tree Day. We are having a stand at Payne Road State School, The Gap in conjunction with Paton Park Native Nursery together with SOWN & Healthy Land and Water.
4th & 5th August   Parks Alive – Roma St Parklands.
The theme is Grow Your Own. Volunteers needed for QBA stall.
27th August Kumbartcho – volunteers needed for QBA stall.
5th-16th September   Native Plants Qld – Mt Coot-tha
Saturday 9am-4pm  Sunday 9am-3pm. 
Saturday 1st Sept We are having a bushfood stand at the Rosewood Native Plant Sale & Enviro Day.
Tuesday 20th March 2018 we'll have our AGM at Pete's Hobby Nursery, 10 Patrick St, Lowood at 9.30am then we'll be planting out a special section for bushfood at Pete's Rail Trial. Carpooling – see Sheryl.
Past Events – 2016
Tuesday 22nd November  2016 11am Bribie Island Library
Cooking with Bushfood – with Dale Chapman
Register on line for all these library events.
https://www.moretonbay.qld.gov.au/welcomingplaces/#cooking
Saturday 6th August 2016 10am – 11.30am Bush tucker walk and high tea @ Parks Alive Bookings essential. https://www.brisbane.qld.gov.au/whats-brisbane/events-council-venues/parks-gardens-events/roma-street-parkland-events#/?i=1
Friday 5th – 14th August  2016 Veronica Coogan from Witjuti Grub Nursery is having a display of bushfood plants at the Royal National Show in Brisbane so come along and meet 12 QBA members who are helping to man the stand on various days.  Location is near the old Museum.
Sunday 7thAugust 2016 What's Cooking in the Redcliffe Botanic Gardens? 9:00am-3:00pm http://www.whatscookinginthegardens.com.au/
Sunday 14th August 2016. Valley Bees meeting at Honeybee Farm Kandanga, 1-30pm with a special 10am Native Bee event held beforehand at Gympie Landcare Nursery with visiting Brazilian native bee expert and Biologist Giorgio Venturieri giving an informative presentation on native bees.
Sunday 28th August 2016 10.30am Brisbane Botanic Gardens Mt Coot-tha in the Australian Rainforest. Bushfood for Children Bookings required.
Saturday 10th September 2016 Mary Valley College grounds and hall in Imbil. All bees are celebrated on the day – honey bees, stingless native bees, solitary bees, live hives and splits/transfers, pollination, habitat and bee gardens.
Saturday 10th September 2016 2.00pm Redcliffe Library
Saturday 17th September – Sunday 18 September 2016 9:00am Native Plants Qld Annual Show at Brisbane Botanic Gardens Mt Coot-tha."Native Plants for Small Gardens" – QBA are having a display and Sheryl Backhouse will be giving a talk at midday and handing out tastings of bushfood.
Thursday 29th September 2016 10.30am Deception Bay Library. Cooking with Bushfood – with Dale Chapman.  Learn to make a dukkah using native herbs and spices,and scones using a special bushfood blend. This cooking demonstration and tasting is led by accomplished Indigenous Australian Bush Tucker Chef Dale Chapman. Dale is enthusiastic about the benefits of bushfood and has over 25 years' experience in the food industry, both as a chef and a cooking instructor. https://www.moretonbay.qld.gov.au/welcomingplaces/#cooking
Tuesday 4th October 2016 Doug Brownlow will be giving a talk on bushfood to Native Plants Qld Samford Branch, CWA Hall, Main St, Samford at 7.30pm.
Saturday 29th October 2016 10.00am Caboolture Library. QBA member, Veronica Coogan from Witjuti Grub Bushfood Nursery shares the knowledge and experience she's gained over her 18 years involvement with native food plants, giving tips on how to create a bushfood garden so you can enjoy the 'Wild Taste of the Rainforest' in your own backyard.
Past Events – 2015
Look forward to seeing some of you at the Kenilworth Food Festival this Saturday 4th April. Have a look at the following link but you must do it through Internet Explorer as it doesn't read well in Google Chrome and you won't be able to view the program in Google:  http://www.kenilworthfoodfest.org.au/  Graeme White, President of the Qld Bushfood Association, is organising it so look out for him. Veronica from Witjuti will be selling bushfood plants there. If you're an early bird, then enjoy Breakfast in the Park at 7am. Then at 10.00am it's Cheester Egg Hunt for children aged four to seven years. Hunt for the Special Golden Cheester Egg! $2.00 Entry. Registration from 8.00am at enclosed children's play area.
Chef Peter Wolfe will be demonstrating how he fuses native bushfood flavours with Asian and European Cuisines at 10.30am and 1.30pm. Peter puts on an excellent show so you will be highly entertained!
During the festival the Kenilworth Historical Museum in Alexandra St, [top of Philip St] will be open from 9am-2pm.
Of course, it's beautiful country around there so study your map and try out some of those back roads and do take your esky to bring home some of that yummy Kenilworth yoghurt and cheese.
Bushfood Conference – Saturday 3rd October 2015
"Education and Innovations in Bushfoods"
Venue – Griffith Uni., Nathan Environmental Bldg. Lecture Theatre N55_0.06
Bushfood dinner & social after the conference at 6.00 pm at the same venue – $30.00.
We will be having our AGM at 11.45am at Dreamtime Kullilla who are celebrating on the weekend of 16th 17th May 2015, 349 Macdonnell Road, Clontarf.  UBD Map 91 Ref C6.   Chef Dale Chapman will be cooking bushfood at 10.30am, Graeme White will be talking on bushfood at 12.30pm and Michael Connolly from Kullilla will come on at 2.00pm to give you a cultural experience on everything you wanted to know about Aboriginal Culture but were too afraid to ask!!!!!   Please note that these times change slightly if you attend on Sunday. They are: 10am, 12.00pm and 1.30pm.                         http://www.kullillaart.com.au/default.asp?PageID=430